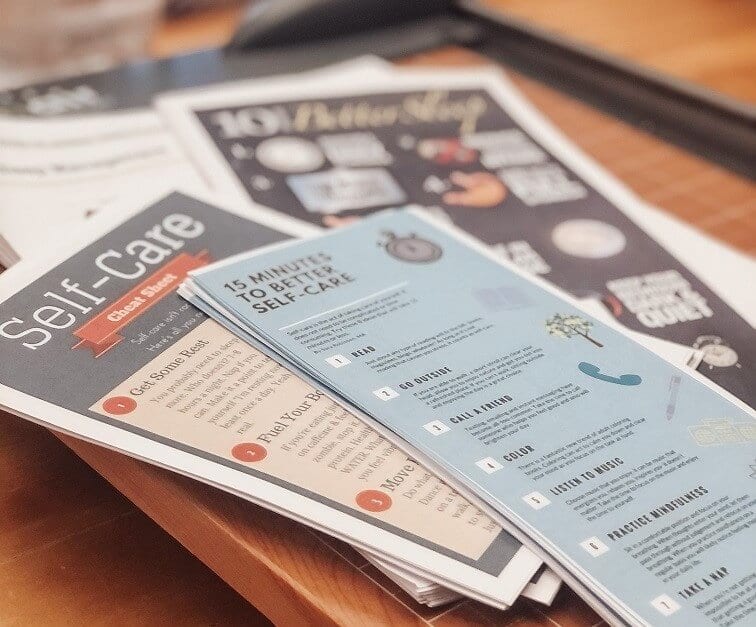 ---
This month at Foundry Lofts, we saw a real need to facilitate self-care into our resident's routine. With everything that has happened this year in 2020, self-care is more important than ever. The Foundry Lofts team decided to celebrate World Mental Health awareness day by providing resources and materials to our residents in a low contact, high impact way. In the words of Deborah Day, "nourishing yourself in a way that helps you blossom in the direction you want to go is attainable, and you are worth the effort," encouraging that self-care isn't selfish and that taking time to unplug and recharge is equally as important as other things on the never-ending "to-do" list.
We put out an assortment of teas, sleep masks, shower steamer tabs, sheet masks, and others, as well as raffled off a weighted blanket and aromatherapy diffuser with a starter set of oils. Teas have been shown to decrease stress levels and aid in overall relaxation. Sleep masks and essential oil shower tabs can ease the mind and help get a solid night's sleep. Focusing on better sleep and general relaxation is an easy way to incorporate self-care into a busy routine.
We also wanted to provide residents with literature for the event. Foundry Lofts partnered with The University of Michigan Counseling and Psychological Services (CAPS) center to have university-sponsored print materials for residents to reference. These materials gave resources to residents who feel overwhelmed and gave tips for better sleep and self-care practices. All these combined made for an exciting and memorable event for the residents.
Resident feedback was positive, and overall, people enjoyed the ability to sample some tea, enjoy a facemask, and take a moment for themselves. It was awesome to see the level of excitement in the residents who might not take the time for themselves if it weren't for an event like this.