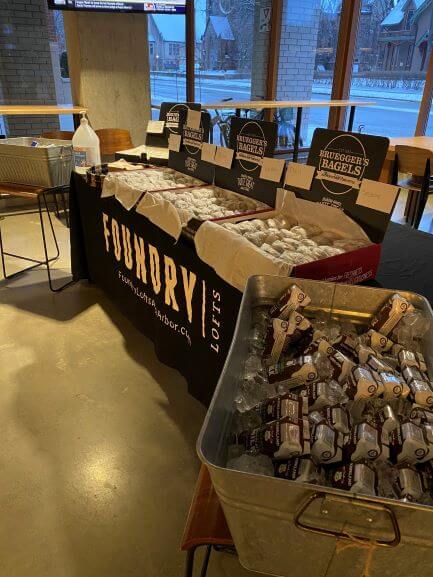 ---
In January at Foundry Lofts, we welcomed almost fifty new residents! It was such an exciting time, and we wanted to kick the semester off right with our Welcome Back week lineup. With a blend of in-person and virtual events, we had something that would appeal to everyone, and the week was a hit all around.
The Foundry Lofts team started the week off with a virtual Meditation Monday. For this experience, we went on Instagram live and led a guided meditation for the viewers.  This event is saved to IGTV so residents can participate on their own time and repeat as they would like.  This was a great way to kick off the week and was a fun way to incorporate wellness and self-care into a busy routine.
Our next event in our line-up was a Study Supply Stock-up.  We set out an assortment of study supplies and let residents take what they needed to start the semester off right. Having fun pens, markers, and a new notebook can make all the difference when it comes to coursework.
For Wednesday, we hosted a COVID-friendly bagel bar sourced from Bruegger's Bagels. Each bagel was individually wrapped, and cream cheese in single-serve ramekins.  We rounded out the breakfast offerings with energy drinks and chocolate milk.  The bagel bar was open by 8 am for residents who have early morning classes or want to jump-start their day.  This event is always a hit with residents and is a great mid-week event to get through the rest of the days ahead.
Thursday was our pop-up popcorn event. The Foundry Lofts staff went door-to-door with single-serve microwave popcorn and other snacks with our trolly. Residents were able to choose what special treat they wanted. It was a great way to increase face-to-face interaction with residents, and people were loving the ability to choose what they wanted without leaving their homes. We look forward to more trolly events in the future.
To wrap up the Foundry Welcome Back Week, we hosted a resident mixer. Residents were able to join us for a fun mix and mingle hosted by the Leasing Manager and Resident Services Manager. We played fun party games to get to know each other and offered a selection of refreshments in single-serve offerings. This was such a fun event for residents to really connect with the community and their neighbors.
We are so excited for the semester ahead and looking forward to hosting more amazing community events!