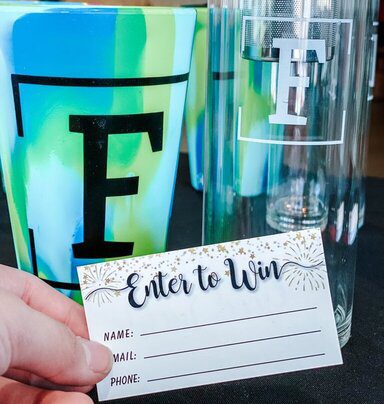 ---
The University of Michigan school year has just begun and we're incredibly excited to have a new, amazing group of residents. To kick off a great year at Foundry Lofts, we planned a calendar jam-packed with a variety of residence life events to give our residents and their friends the opportunity to meet and mingle with their neighbors and to enjoy spending time in our luxury amenities.
Week 1 - Breakfast On The Go
For our first resident event, we invited our residents to our breakfast on the go which was held in our Resident Lounge. We ordered about 150 bagels from our local Bruegger's Bagels shop for our residents and they seemed to enjoy the convenience of being able to just grab and go! They loved it so much that we were all out of bagels within the hour!
Week 2 - Super Smash Event
Week two, we held our Super Smash Event in our Event Space. Prior to this event we had about 10 residents sign up to win a Nintendo switch. To win the prize, you had to become the winner of our Super Smash Bro Tournament which was played using a Nintendo Switch! Our residents seemed to love this event - even residents that weren't in the tournament were cheering them on!
Week 3 - Karaoke Night
During our third week of resident events, we held Karaoke Night in our Event Space to which 10 people attended. We set up our karaoke machine to display lyrics on the tv and had many different snacks and drinks available. We even handed out free Foundry merch to those who participated! It was so much fun seeing our residents socialize with one another!
Week 4 - Meditation Monday
For our fourth resident event, we held Meditation Monday Which was held virtually on Instagram to which 10 residents attended. We loved hosting this event because it was different than our previous events and was unique in the way that we get to connect with our residents virtually while still being impactful. We loved sharing ways to relief stress and improve self-wellness.
Week 5 - You Speak We Listen Launch/Free Beer Friday
Week five, we held You Speak We Listen Launch/Free Beer Friday in our Resident Lounge. For this event we had residents fill out the YSWL survey and show proof of completion to get two free beer tickets to a nearby restaurant or a free merch item. Residents that filled out this survey also were entered to win our huge raffle giveaway for the chance to win an electric scooter! We had 60 people attend our launch and many were excited about the prizes we were giving away!
Week 6 - Donut Bar
Our very last week of our 6 in 6 events, we held a Donut Bar in our Resident Lounge. For this Event we ordered 120 donuts from Washtenaw Dairy. We gave donuts to each resident that filled out our You Speak We Listen survey. After each resident filled out the survey, they were also entered into our huge raffle giveaway for the chance to win an electric scooter!
Our team has had such an amazing time getting to meet our residents over the past 6 weeks. Here at Foundry Lofts we strive to create the best experience in University of Michigan's off campus housing and hosting a variety of awesome resident events is just one part of achieving that. Keep an eye out for more events to come, we're looking forward to a great year!