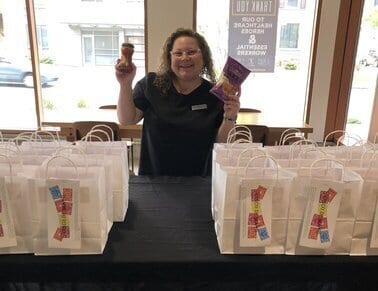 ---
Last month, Foundry Lofts celebrated Cinco De Mayo in a fun and educational way.  We put together bags with chips and salsa (mild and medium of course) and gave literature explaining the significance of the holiday as well as a fun recipe so that residents could make their own authentic Mexican cuisine at home!
This was such a great event and residents loved the fun snack we were able to provide.  We are still adhering to COVID guidelines, and this was a great way to host an event while social distancing. Cinco De Mayo is an important holiday to remember the fierce independence of Mexico and their fight against a tyrannical invader. The Foundry Lofts Team loves to take any opportunity to highlight an international culture and increase exposure and awareness to new ideas and events for our residents! Being in the cultural hub that is Ann Arbor, we have amazing access to resources through the University of Michigan and love to take advantage of that for our residents.
We can't wait to bring more curated programming to our residents in a fun, easily accessible way and look forward to future events. For the recipe provided, please click here and for more information on Cinco De Mayo, you can download this quick fact sheet!